C20DX Automatic Pyramid Tea Bag Packaging Machine with 4 Head Weighs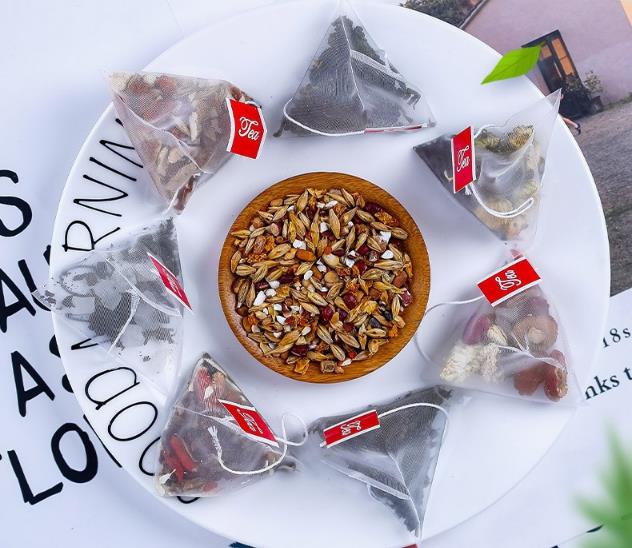 Application:
It is suitable for packing kinds of teas such as loose leaf tea like black tea and oolong tea, herbal tea, health tea, rose tea, jasmine tea, etc.Features:
1. The feasible package materials of the triangle bag machine is nylon, PLA, non-woven fabric materials imported from Japan, which is non-toxic, non-bacteria, heat-resistant, high-quality and food-grade, conforming to our national safety inspection standard.
2. The machine can uses a unique sealing method - ultrasonic. It can seal tightly, safely, and reduce the width of the extra edge, avoiding any waste of packing materials.
3. The machine can switch the bag shape between pyramid(triangle) and flat(rectangle), and also the sealing method can be switched into back sealing.
4. The machine can be linked with the outer pouch packing machine.
5. Each electric scale of this machine is independent, each one can be operated alone.
French Herbal Tea Pyramid Tea Making Machine With Paper Can Packaging
Technical data:
Machine type: Tea Bag Packing Machine Series
Machine model: C20DX
Machine name: Export-oriented Automatic Pyramid Tea Bag Packing Machine with 4 Head Weighs(Improved)
Packing material: Nylon material imported from Japan, non-woven fabric, 100% biodegradable transparent materials, PET, PLA, etc
Measuring method: Electric scale filling
Filling range: 1-10g/bag, accuracy: ≤ ±0.1g/bag
Packing speed: 30~60 bags/min
Packing roll width: 120, 140, 160(mm)
Sealing length: 50, 60, 70, 80(mm)
Sealing method : Sealing and cutting by ultrasonic
Qty of sealing device : 2 sets
Air supply: ≥0.6MPa(can be equipped with air compressor)
Motor power: 220V, 50HZ, 1.2KW
Dimension: 1800*900*2500mm(L*W*H)
Machine weight: 500KG
Make sample bags
If it's necessary according to your requirements, we can make sample bags for your reference.
Free machine adjustment before shipment
Our technical team will adjust the machine based on customer's request and take video to
send to our customer to show the running condition of the machine.Free Training CD to ship with machine
Our technical team will provide a trainning CD to our customer in order to train how to use the machine.Life Long after sale service
Our factory will provide life long service, in order to help our customer to solve any problem regarding to the machine, such as replacement part, technique questions, etc.
Warranty and after-sales service
One year warranty, 24 hours online technical service and solution can be offered.