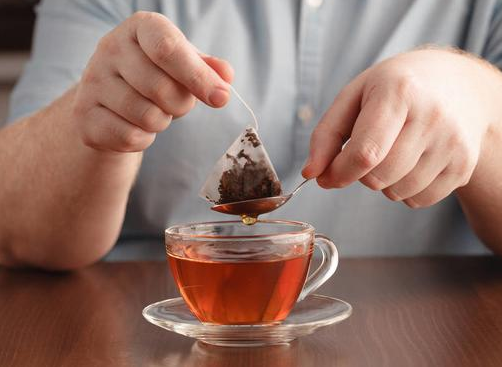 green tea bag
Making a cup of tea not only has a delicate fragrance, but also makes people feel relaxed and refreshed. But how many times should you brew a cup of tea?
The bagged black tea, green tea and jasmine tea that people drink generally all are just tea dregs are discarded after brewing 1 time. Because the leaf cells are fully destroyed by cutting and kneading during the processing of this kind of tea, forming granular or fine flakes, the effective content in the tea is easily leached out when brewing.
Brew scented tea, black tea, and green tea in bags with boiling water. After 3 minutes, about 55% of the total soluble matter can be dissolved for the first time; about 30% for the second brewing; 10% for the third brewing. % or so; the fourth brewing is only 1% -3%. Judging from the leaching of vitamins and amino acids contained in tea, 80% of them were leached when brewing for the first time; the leaching rate reached more than 95% when brewing for the second time; The same is true for phenol and caffeine.
C20DX Automatic Pyramid Tea Bag Packaging Machine with 4 Head Weighs

Application:
It is suitable for packing kinds of teas such as loose leaf tea like black tea and oolong tea, herbal tea, health tea, rose tea, jasmine tea, etc.Features:
1. The feasible package materials of the triangle bag machine is nylon, PLA, non-woven fabric materials imported from Japan, which is non-toxic, non-bacteria, heat-resistant, high-quality and food-grade, conforming to our national safety inspection standard.
2. The machine can uses a unique sealing method - ultrasonic. It can seal tightly, safely, and reduce the width of the extra edge, avoiding any waste of packing materials.
3. The machine can switch the bag shape between pyramid(triangle) and flat(rectangle), and also the sealing method can be switched into back sealing.
4. The machine can be linked with the outer pouch packing machine.
5. Each electric scale of this machine is independent, each one can be operated alone.

Technical data:
Machine type: Tea Bag Packing Machine Series
Machine model: C20DX
Machine name: Export-oriented Automatic Pyramid Tea Bag Packing Machine with 4 Head Weighs(Improved)
Packing material: Nylon material imported from Japan, non-woven fabric, 100% biodegradable transparent materials, PET, PLA, etc
Measuring method: Electric scale filling
Filling range: 1-10g/bag, accuracy: ≤ ±0.1g/bag
Packing speed: 30~60 bags/min
Packing roll width: 120, 140, 160(mm)
Sealing length: 50, 60, 70, 80(mm)
Sealing method : Sealing and cutting by ultrasonic
Qty of sealing device : 2 sets
Air supply: ≥0.6MPa(can be equipped with air compressor)
Motor power: 220V, 50HZ, 1.2KW
Dimension: 1800*900*2500mm(L*W*H)
Machine weight: 500KG