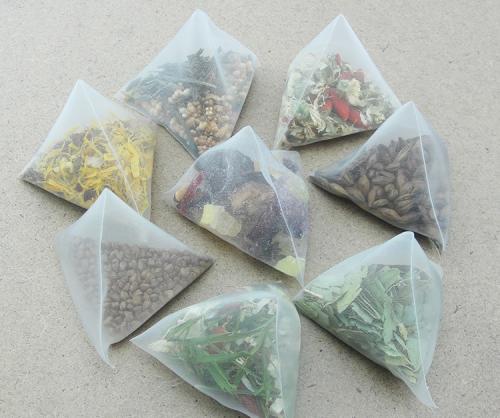 What is the advantage of three-dimensional triangular teabags over ordinary teabags? There is a saying: the tea bag made into a three-dimensional triangle is to allow the tea leaves to fully stretch in the three-dimensional space, fully expressing the taste and aroma.
Two tea bags with the same volume, the three-dimensional tea bag has a larger surface area to embrace hot water. The surface area of the traditional tea bag in contact with water is about 1/2 of the total area, and the surface area of the three-dimensional triangular cone tea bag in contact with water is 3/4 of the total area. The tea release efficiency increases with the area of the tea bag in contact with water. The part of the traditional tea bag that cannot touch the hot water leads to idle tea leaves, but the three-dimensional triangular tea bag has no such concerns.
In addition, the brewing methods of various teas are different, and some teas cannot be brewed for a long time. But this is a matter of time. From the perspective of tea bags, triangular tea bags are better than traditional bags. First, sort out the tea leaves. The second is that it will not be shaped like that, so that the blades cannot be stretched.
Keep the shape of the tea leaves, the tea leaves are not broken, and the triangular contact area is large, making it easier to brew tea. In order to preserve the tea prototype and emphasize the difference between it and broken tea, a zongzi-shaped tea bag is specially designed. In other words, even if there is no difference in taste and efficiency, the commercial value is obvious. However, there are many kinds of triangle bags at present, and most of them are made of nylon. The problem is that they are not easy to degrade.
Now the new one is made of corn fiber, which is healthier, more environmentally friendly, and easy to degrade. This tea bag is the way of the future.
C87DX-6 pyramid Inner and outer Tea Bag Packing Machine (premade bag type)

Application:
It is suitable for packing kinds of teas such as loose leaf tea like black tea and oolong tea, herbal tea, health tea, rose tea, jasmine tea, etc.Features:
1. The feasible package materials of the triangle bag machine is nylon, PLA, non-woven fabric materials imported from Japan, which is non-toxic, non-bacteria, heat-resistant, high-quality and food-grade, conforming to our national safety inspection standard.
2. The machine can uses a unique sealing method - ultrasonic. It can seal tightly, safely, and reduce the width of the extra edge, avoiding any waste of packing materials.
3. The machine can switch the bag shape between pyramid(triangle) and flat(rectangle), and also the sealing method can be switched into back sealing.
4. The machine can be linked with the outer pouch packing machine.
5. Each electric scale of this machine is independent, each one can be operated alone.
Biodegradable Tea Bag Packaging Machine For Indonesian Tea
Technical data:
Machine type: Tea Bag Packing Machine Series
Machine model: C87DX-6
Machine name: C87DX-6 pyramid Inner and outer Tea Bag Packing Machine(premade bag type)
Packing material: Nylon material imported from Japan, non-woven fabric, 100% biodegradable transparent materials, PET, PLA, etc
Measuring method: Electric scale filling
Filling range: 1-10g/bag, accuracy: ≤ ±0.1g/bag
Packing speed: 40~60 bags/min
Packing roll width: 120, 140, 160(mm)
Sealing length: 50, 60, 70, 80(mm)
Sealing method : Sealing and cutting by ultrasonic
Qty of sealing device : 2 sets
Air supply: ≥0.6MPa(can be equipped with air compressor)
Motor power: 220V, 50HZ, 1.2KW
Dimension: 1800*900*2500mm(L*W*H)
Machine weight: 600KG