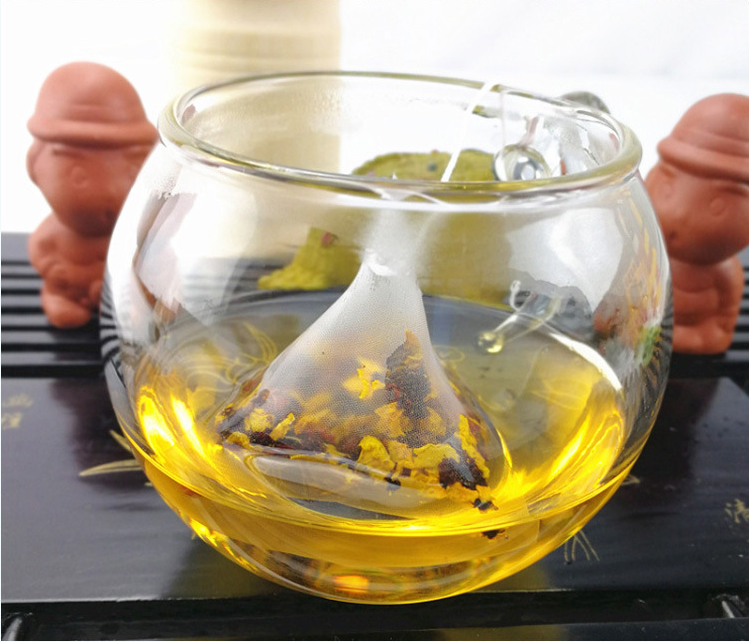 Tea bag, also known as "disposable tea bag", is to seal the tea in a filter bag with strong filterability. When making tea, directly put the filter bag containing the tea leaves into the teacup for brewing. From ordinary filter paper tea bags to the most popular triangular tea bags (triangular tea bags), convenient and quick tea bags are becoming more and more popular among consumers.
The triangle tea bag is an innovative design of the traditional tea bag. The unique flexible space allows the tea leaves to stretch out in the tea bag. The pyramid-shaped tea bags can be used without damaging the base of the original tea leaves. Let the aroma and taste of tea be released quickly and thoroughly, with the taste of professionally brewed tea. The triangular tea bag (triangular tea bag) is transparent, consumers can directly see the production of high-quality raw materials inside, and don't have to worry about using inferior tea in the tea bag. Triangular tea bags have broad market prospects
The characteristics of the triangle tea bag are as follows:
1. There is no need to filter when brewing, which is simple and fast.
2. Allow consumers to enjoy the wonderful original fragrance and color of tea.
3. Let the tea bloom into complete and beautiful flowers in the triangular three-dimensional space, so that the fragrance of the tea can be completely released.
4. Make full use of the original tea leaves, which can be brewed many times for a long time.
5. The three-dimensional triangular tea bag tastes good.
6. The triangular tea bag is seamlessly sealed by ultrasonic waves to create a high-quality teabag image.
C87DX-6 pyramid Inner and outer Tea Bag Packing Machine (premade bag type)

Application:
It is suitable for packing kinds of teas such as loose leaf tea like black tea and oolong tea, herbal tea, health tea, rose tea, jasmine tea, etc.Features:
1. The feasible package materials of the triangle bag machine is nylon, PLA, non-woven fabric materials imported from Japan, which is non-toxic, non-bacteria, heat-resistant, high-quality and food-grade, conforming to our national safety inspection standard.
2. The machine can uses a unique sealing method - ultrasonic. It can seal tightly, safely, and reduce the width of the extra edge, avoiding any waste of packing materials.
3. The machine can switch the bag shape between pyramid(triangle) and flat(rectangle), and also the sealing method can be switched into back sealing.
4. The machine can be linked with the outer pouch packing machine.
5. Each electric scale of this machine is independent, each one can be operated alone.
Malaysia Pyramid Green Tea Bag Tea Packing Machine
Technical data:
Machine type: Tea Bag Packing Machine Series
Machine model: C87DX-6
Machine name: C87DX-6 pyramid Inner and outer Tea Bag Packing Machine(premade bag type)
Packing material: Nylon material imported from Japan, non-woven fabric, 100% biodegradable transparent materials, PET, PLA, etc
Measuring method: Electric scale filling
Filling range: 1-10g/bag, accuracy: ≤ ±0.1g/bag
Packing speed: 40~60 bags/min
Packing roll width: 120, 140, 160(mm)
Sealing length: 50, 60, 70, 80(mm)
Sealing method : Sealing and cutting by ultrasonic
Qty of sealing device : 2 sets
Air supply: ≥0.6MPa(can be equipped with air compressor)
Motor power: 220V, 50HZ, 1.2KW
Dimension: 1800*900*2500mm(L*W*H)
Machine weight: 600KG